Special EMTA Meeting - June 22, 2000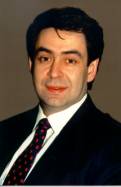 Igor Kostikov, Chairman of the Russian Federal Commission for the Securities Markets, (FCSM) spoke at a special meeting for EMTA Members in New York on June 22, 2000.  The event, which was hosted by CLSA Emerging Markets, drew a crowd of over 75 people and was presented in association with the Global Equity Market Association (GEMA).
Dr. Kostikov, who was appointed to his position in February 2000 by Russian President Vladimir Putin, emphasized that "Russia is part of the global economy," but that Russia had to catch up to with the financial markets of other countries.
In his presentation, Dr. Kostikov noted that he well understood investor concerns and that he recognized that investors want increased enforcement and protection of shareholder rights in Russia.  However, he noted that in contrast to the securities watchdog organizations in countries such as the US, Russia's securities commission lacks investigative and enforcement powers, and thus must work closely with other agencies such as the tax authorities.  In addition, proposed reforms such as a ban on the commingling of brokerage proprietary and customer accounts require legislative action by the Russian Duma.
Addressing investor concerns over corporate governance in Russia, Dr. Kostikov noted that the phrases "corporate governance" and "conflict of interest" "cannot even be translated accurately into Russian," which he said underscores the need for a change in psychology among his countrymen.  He said he would use as part of his gauge for success a "babushka barometer," meaning that he would feel he had made progress in developing confidence in the Russian market when Russia's grandmother pensioners, who are stereotypically suspicious, feel comfortable with investing their own savings in the Russian equity market.
Dr. Kostikov told the crowd that, in the past, he had lobbied for various changes in the Russian financial markets and had written letters to the Commission.  Now that he has been appointed Chairman of the FCSM, he was the person who would be reviewing such letters and responding to them.